Sky Full of Stars
The 20s are all about understanding your world. The word your is so purposeful in that sentence. We are the center of our own worlds. Yes, it's important to remain down to Earth and to be humble but at the same time there's nothing wrong with being conscience of the environment you live in. In fact, if you're not taking notice of it, then who is. We may stay grounded in this place but when we're surrounded by the right people, it's like we're in a sky full of stars.
When was the last time you just looked up at the sky. During the day it literally adds a filter to the entirety of the day. Sepia, valencia, hudson and all the rest, it's so amazing what a couple clouds and some sunshine can do to affect your day. When night falls, the sky becomes a totally different space. Deep blues, rich noir shades of black, and hazy oranges take over. The moon shines or hides away and the stars come out to twinkle, shine, and glisten in the far away nothingness of space. That sky full of stars provides refuge and strength in a time of uncertainty, emptiness, and solemnity. That sky full of stars shine much needed light where darkness threatens to take over. That sky full of stars is all those that take the time to see you. I mean really see you. More than just your physical being but who you are a person. They see your the humanity in you. They see your soul and your spirit.
They look past all the fronts we put up, the pretenses we live by, and the lies we tell ourselves. They use their own light to shed a spotlight on us and help guide our way. These are the people who look into your eyes when they're talking to you. You can tell they are listening because they respond and the sincerity in their demeanor is not only seen but felt. You can just tell, that they are wholeheartedly in to taking in what you are conveying to them. They see the light. They see the light in all of us. They see your light. These are the people that have an uncanny knack for seeing who people really are. Behind all the dressing up, the barriers we put up, and the fallacies we've begun to believe ourselves lies who we actually are.
Do you ever get this feeling that other people are seeing the real you? There are some people who make you want to be even more you than ever before. They make you feel comfortable and it's such a safe feeling that you forget even the hardest parts about you. Nothing else about you matters in those moments when you're engaged with them. You live in the moment. You take those few seconds to look around, that's when you actually notice the ozone blue sky and velvety black sky full of stars at night.
This week has allowed me to see some the stars in my life. Some of them are shooting and come blazing in a trail of glory, some glow softly in the background but provide comfort nonetheless, and others appear out the blue. Tuesday was one of those record breaking long days where I did class (sports article for journalism & Bible discussion for religion) before transitioning to everything else. I went to a brotherhood meeting (affinity group for men of color) where we talked about what #Ferguson means to us (notice means is in the present, because it will always be relevant) before I zoomed off to a TV station meeting where I got back in front of the camera.
I passed through a black student union meeting where people were speaking their own personal truths about the current state of being a racial minority in the U.S. and specifically our predominantly white institution. It was so empowering to not only see people who look like me but to be surrounded in such a supportive and candid environment. I was just a person, my identity wasn't the entirety of who I was. I spent the night baking cupcakes and avoiding homework before passing the heck out. Wednesday came and brought with it class or whatever before the religion department BBQ. I was able to reconnect with my former roommate and suitemate, Patrick and Joel. So happy to still be friendly with them and to see their familiar faces around campus. It was cool to meet the families and see some of my professors outside of our typical academic setting.
I sent a barrage of emails before disconnecting to check out the "I Love Female Orgasm" programming. It was interesting to say the least. I think I appreciated the vulnerability the presenters shared in contributing their personal stories and their willingness to learn with us just as we were. I went home content after distributing cupcakes to some of my favorite people. My sky full of stars glimmered brighter than ever.
There's nothing better than being around people who make you laugh, make you feel, and who you immediately feel comfortable around. We spend so much time operating in defense mode, hiding, uptight, and always prepared for the worst. When we are given the opportunity to just shine bright, we have to take advantage of it. Thursday was one of those whirlwind days that stirs up the cosmos. I made it through classes, and gave the General a piece offering. When a star implodes or gets sucked into a black hole, it goes it out with what I imagine to be a big bang. It's particles are scattered across space and it ceases to exist. Sometimes stars go out but you always remember that are literally millions of other ones that can align in their place.
I met up with my friend Isora and had an early spaghetti dinner (yes, turkey meatballs from scratch; get at me) before a miniature photoshoot (see pictures below). Soon after was an SESP reunion (the summer program I served as a peer advisor for). There was so much energy in the room. Hugs were given all around, people's smiles were gleaming, and soon we were just talking, catching up, and getting back with each other. I absolutely loved it. It filled my heart with so much joy to see everyone so comfortable with one another. Afterwards, our little staff of Ying, Cat, Enmy and I (missing Jackie) caught up and just processed it all. I can't even express how refreshing it was to be their company once more. I was able to share my fears for the year in addition to all the good things. They just listened and it was as if not much time had passed.
That brings me up to Friday where the weather had become sweater worthy real fast. I had lunch with a new buddy, Red, at Brennan's for a solid hour of getting to know you conversation. What a process it is to know others but one that is always worthwhile. I finished my last class of the week and headed to the green for Frisbee with my IFC guys, Scott and Sam, and a potential new member, Kyle, before my fraternity brother, Dom joined in. This semester hanging out with Scott and Sam has been consistently some of the best parts of my week. Zach and I zoomed to the grocery store and when we returned all my guests were waiting for our Friday night dinner. The atmosphere was electric. It was like asteroid belts had cleared and everything churned in a consistent ebb and flow. Connor (aka Bucky) dropped by along with Mike (our newest brother), Willy, and quite possibly my unofficial favorite first year student, Cam. I was cooking away but being in a environment where the 6 of us could just connect, chill out, and be was the best end to me week possible. Some of them had to depart early but still enjoyed seeing them nonetheless. Those who were able to sit down for dinner had a hearty conversation going for a couple of hours. Again I was just there. I was me. I was whole. I was able the fullness of all my light be seen. I thank them all, but especially Cam, for letting me be myself and to know him and them all as well. I spent the night writing this post after a joyride with Zach and Will getting hype on banging beats. My sky is full of stars and for that I am grateful.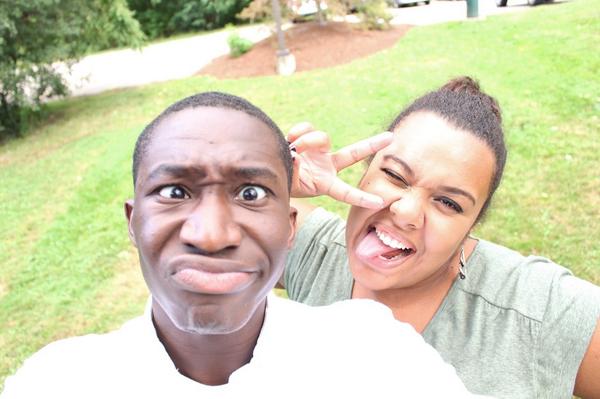 My blog post question for the day is ... when do you feel most valued?

Whenever people take into account the entirety of who I am and acknowledge it. It is honestly so validating.