Coming Clean
Being a teenager is all about self-evaluation. It's about reflection and analyzing yourself. Who else knows you and your motives better than you? Why did we do all the thing we did this semester? What happened to us? Where could we have done better, and where did we do really well? It's like those professor evals where you get revenge on your professor for trying to ruin your life, but the awkward part it - this time you've only got yourself to blame. Start coming clean.
Coming clean means being real with yourself and everyone else around you about what's gone on. It's all about checking yourself and coming on clean. Watch the vlog entry here:
Let me come clean about how I actually spent the last days of my sophomore fall semester at the University of Vermont. Monday morning started with the evil torture that was my organic chemistry final - let's just say, chem and I are never ever getting back together. I was such a mess afterwards, but off to the little convenience store in the student center to hardcore splurge on candy and try to regain some kind of normalcy. I spent the rest of my morning watching Arrow and eating and laying around. Finally it was time for a bio review session where I effectively passed the hell out and slept (#mylife). On to do some studying with my secret favorite people, Kylie, Josh, and Claire - oh and their friend, Alex. All of us were kind of doing our own thing and not getting very far, the motivation to study was zero to none. It was raining when we all decided to give up, but I took Jylie (Josh + Kylie = Jylie *whether they want to admit it or not, I ship them so hard) for ice cream and we reminisced on throwback television (children's TV is my forte). Back to my suite to pretend to study some more and get some nasty ass diet iced tea (that we walked barefoot outside in the cold to retrieve) from the trifiling vending machines. At midnight, Jimmy, Patrick and I had the most epic pillow fight of all time. Check the edited video of that amazing battle *coming soon. Come on and come clean - bare it all.
Tuesday morning was legit one of the hardest times I've ever had waking up. I rolled out of bed and soon Jimmy and I are were off to our biology exam. It was legitimately freezing cold and we were for sure not properly dressed. Honestly, I looked and felt like a huge mess. The exam happened - that much is for sure. I went to drop of my final exam for my honors college class and was officially free of exams. I caught the bus and met Jimmy at Harris/Millis unlimited dining for a celebratory breakfast. Popularity abounds and people just coming to say "hey" - I'm like, the usual. I met up with my buddy Dzenan to work on studying for his calculus exam. We came to the realization that he bears a striking resemblance to the swim-bum known as Tom Daley. After that it was hardcore naptime, I just wasn't having any of it. Jimmy, Patrick and I went for an ice cream run (see this recurring theme in our lives) and just sat being a mess and hanging out. Truthfully, it was one of the most genuinely fun moments of the entire semester (that's saying something). My fraternal big brother, Gabe, scooped me and we went to Vermont Pub and Brewery to bro-bond and catch up on each other's crazy busy lives. Seriously one of my favorite people, quirky, funny, subtle and honestly kind hearted - happy to call him my big. Soon night came and I spent half my time wallowing in despair at leaving my roommate (remember he's studying abroad next semester) and packing to head home. Around 9:30pm I went downstairs to the kitchen to help out at my hall's midnight breakfast event. I was for real having a great time being a perpetual mess with Deniz, Sydney, baby-Sam, Morgan, Julie and our advisor Marlene. People came in groves and demanded food, and we were cooking as fast as we could. I took a burn to the arm, had oil pop all over me, and scrubbed so much cookware it was like I hadn't paid at a diner and was forced to wash dishes as punishment. It was awesome, my ever-enthusiastic buddy Nicholas made an appearance (he's an energetic ball of fun that guy) and all of us just did our best to keep up with the crowd. We cleaned up and it was up to my room to actually get down to packing. No big deal, just finished packing at 3am. Coming clean, and cleaning up.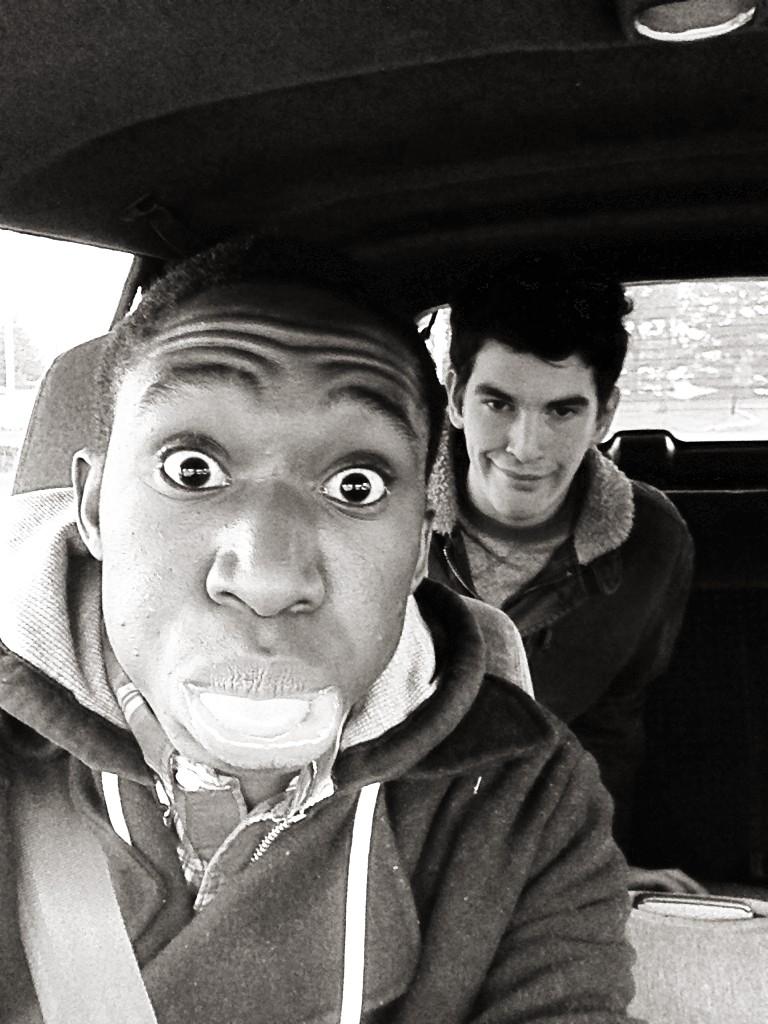 Leaving is always a troublesome thing. If I'm coming clean, I'd have to say that saying goodbye to my roommate, Patrick, was one of the hardest thing I've done all semester. We all woke up late and I finished getting my stuff zipped away. Sam, Patrick and I made a stop downtown at Dunkin' Donuts for breakfast for our last hang out. Off to the airport where I'm not embarrassed to say I cried. Into the airport where I got my stuff together from the like nicest airline agent ever and proceeded through security. I took a seat and waited out the time until boarding. All of a sudden I was flying from Burlington, Vermont to Washington, DC. I was initially confused when I landed because I thought I was going to Dulles not Reagan, but I figured it out and moved on to my next terminal. Everyone was moving so fast and I got on the bus from the gate to board my second flight. I was a total mess, just zoning in and out of sleep against the window, on my arm and slumped over in the seat. Whatever, I was a sleep-deprived teenage boy. I made it to Cincinnati where my mom and sister picked me up. I was welcomed back to Ohio with a serious blockage with traffic that extended our trip by a whole lot. I ate and put my luggage in my room #homesweethome. Out and about with my brother, Christian ,and sister, Bianca. I went grocery shopping and picked up Chipotle while they went to a basketball practice (as always - so domesticated). I spent my first night watching TV and sleeping like there was no tomorrow. Now I'm home for a month, so be prepared for even better posts and more videos. Challenges, house tours, and even more randomness to come. Coming clean and coming soon.
Being a teenager is all about looking back at what you've done. If you're okay with the choices you made and what you've accomplished, great - but if you've got some red on your ledger (excuse the Avengers reference) and you've got to reconcile with yourself. Where have you been? Who are you now? Are the person you've wanted to be this semester? Come clean.
My blog post question for the day is ... how did your semester actually go?

Overall, it's kind of a toss up - there were some stand out amazing moments, but there was also a heck of a lot of mess instances in there too.